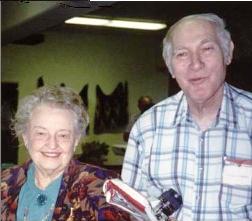 Fifty years ago, Dr. Henry Farrar founded Nigerian Christian Hospital. If founding that hospital was all he ever did, he would have left a great legacy! Many thousands of ill, injured and pregnant patients have been served at that location. God has used NCH to bring a great number of new lives into this world and to save a great number of men and women with devastating diseases.
But Dr. Farrar knew that everyone he served medically also had spiritual needs and all of them would eventually die. When in Nigeria, every day he prayed with patients; every Sunday he would preach. His care for the eternal souls of everyone he met, whether a patient or not, was evident in his words and in his deeds. If we only knew of his attention to the spiritual needs of those around him, he would have left a great legacy!
Just as it is impossible to hide a city set on a hill (Matthew 5:14), the light of Dr. Henry Farrar's example could not go unnoticed. He has had a tremendous impact on medical missions and on missions in general. He has influenced teams of medical personnel to volunteer their skills with no monetary compensation. Some have given their skills part time and others have devoted their lives full time to help the sick in places no one else would go. If all Dr. Farrar ever did was to influence others to serve, he would have left a great legacy!
Dr. Farrar served as a church elder and as a trustee on the boards of Harding University and International Health Care Foundation. His leadership in this church, university and foundation was highly appreciated and helped to bring them to where they are today. He took on positions of leadership not to gain the attention or praise of others, but rather to serve. If all he ever did was to humbly lead these worthy organizations, he would have left a great legacy!
I met Dr. Henry Farrar in the 1960s. From that time until now, he has been my hero in the faith. In his later years he spoke of death as a promotion to be with God. Last month, at age 83, he was promoted. We will miss his insight, his example and his smile. May we all be influenced by him to leave a legacy of being like Christ — caring for those who are physically or spiritually weak, setting a worthy example and leading others who want to serve.
Who is your hero of faith? What is it about this person that influences you to want to be a better person and draw closer to God?
Contact Us and tell us about him/her.
Let's discuss about how you can be sure that medicines you purchase online are safe. Most great aspect for a comfort breath is health. Circumstances that can influence your choice when you are buying medicines are various. There are numerous other medicines. Our article tell more about "buy generic cialis online". In our generation many men search for the exact phrase "buying cialis online" on the Web. More information about this matter available at "purchase cialis". Having such disease can be a real challenge. Causes of erectile dysfunction switch on psychological factors, such as stress. Chronic disease, several drugs, and scar tissue in the penis can also cause erectile disfunction. Online sex therapist services are the only safe variation if you are going to buy medicaments, like Viagra, online.