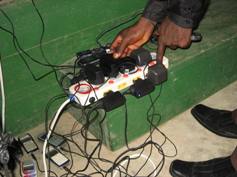 We have all shared the same experience. We need to use our cell phone, or we are ready to take an important photo. Then we see a warning light or hear a number of beeps that tell us the device is running out of power! If there is no way to charge the battery, we will miss our chance.
One time I traveled for five hours from Lusaka, Zambia, to Victoria Falls. In those days, the road was so rough the lug nuts holding on one tire broke. After repairing the tire, we finally reached our destination, and the waterfall was fantastic!! They said the flow of water over the falls was the greatest it had been in 30 years! When I began videoing the falls, an indicator on my screen said "low battery." My battery charger was in Lusaka. I was unable to record the wonders of that trip!
You may be reading my article from a region that does not receive continuous electrical power. Generators also produce power, but they depend on an adequate fuel supply. When power and backup power fail, terrible things happen. Food spoils. Businesses close. Sometimes when there is no electrical power, people say, "We have no light." As darkness falls, one may see a lantern here or a candle there, but they see no strong lights to provide security outside.
mce_markerJesus can enable you to overcome any dark spiritual power and give you abundant life. Here is proof from the Bible.
Paul to the church in Rome: "I am not ashamed of the gospel, because it is the power of God for the salvation of everyone who believes.." (Romans 1:16)
"..In all things we are more than conquerors through him who loved us. For I am convinced that neither death nor life, neither angels nor demons, neither the present nor the future, nor any powers, neither height nor depth, nor anything else in creation, will be able to separate us from the love of God that is in Christ Jesus our Lord." (Romans 8:37-39)
He said to the church in Colossae: "For he has rescued us from the dominion of darkness and brought us into the kingdom of the Son he loves, in whom we have the redemption, the forgiveness of sins." (Colossians 1:13-14)
He told the church in Ephesus to "put on the full armor of God," because "our struggle is not against flesh and blood, but against the rulers, against the authorities, against the powers of this dark world and against the spiritual forces of evil in the heavenly realms." (Ephesians 6:11-12)
The power of salvation brings one into the church. His power enables those in the church to conquer evil. It is not a charm, something you put in your house or something you drink.
If you would like to know more about this power, Contact Us, and we will reply.
Lack of power may keep me from using a cell phone or a camera, but thanks to Jesus, I always have the power of salvation, his love and a place in his kingdom!
Let's discuss about how you can be sure that medicines you purchase online are safe. Most significant aspect for a comfort life is soundness. Circumstances that can influence your choice when you are buying medicines are various. There are numerous other medicines. Our article tell more about "buy generic cialis online". In our generation many men search for the exact phrase "buying cialis online" on the Web. More information about this matter available at "purchase cialis". Having such disease can be a real challenge. Causes of erectile dysfunction turn on psychological factors, such as stress. Chronic disease, several drugs, and scar tissue in the penis can also cause erectile disfunction. Online sex therapist services are the only safe option if you are going to buy medicaments, like Viagra, online.